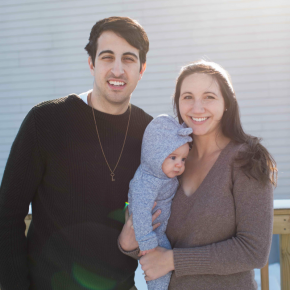 Lead Church Planter,
Lead Church Planter
Canton Maryland,
Canton Maryland
About My Family
I was raised in a home with a Muslim father and unbelieving mother. In college, I radically encountered Jesus. After surrendering to Christ, I started a college ministry that grew far beyond our expectations. This ministry affirmed my calling to plant a church in a major city. I married my wife, Sherrie, in summer 2013, and we began pursuing this calling together. After our years of training, both as a pastor and as a student at Southeastern Baptist Theological Seminary, our love for Jesus and for people has driven us to preach the gospel in the city of Baltimore. We moved together with a team of 12 people to Baltimore city in July of 2017. Sherrie and I love sitting on the beach, reading Tim Keller books, listening to music, trying out obscure restaurants, drinking coffee on the porch and having people in our home. 
About My Church Plant
Redemption City Church desires to be a church planting catalyst that plants churches throughout Baltimore that display and declare the gospel to their neighbors through authentic relationships, intimate community, gospel-centered preaching and by loving the city. Our church plant will incubate apprentice church planting couples and develop and deploy them to plant every 2–3 years, expecting those churches we plant to reproduce as well. The Canton neighborhood in Baltimore, Md., has more than 12,000 residents who have little or no access to the gospel. Canton is an area replete with young professionals looking for purpose. A thriving church in this area would greatly impact lives, corporations, government and the world. 
NAMB Church Planting
Demonstrated Christian character is essential for missionaries and chaplains to gain credibility and build community. A missionary is a person who, in response to God's call and gifting, leaves his or her comfort zone and crosses cultural, geographic or other barriers to proclaim the gospel and live out a Christian witness in obedience to the Great Commission. The North American Mission Board supports missionaries serving across the United States, Canada and their territories. Churches are the missionary incubators and sending centers for missionaries through the Southern Baptist Convention. Missionaries serve in a variety of settings and face tremendous challenges. But the rewards are tremendous and life-changing. Missionaries have the privilege to represent their church and their Father in sharing the gospel as the primary focus of their activity. If you are interested in pursuing next steps as a potential missionary or chaplain from your church, explore the possibilities at namb.net/send-me.