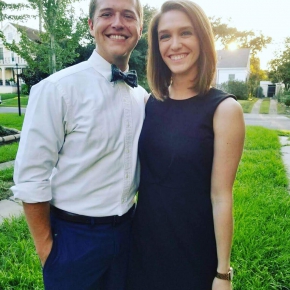 Church Planting Team Member
About My Family
My husband, Coale, and I were married March 2, 2019. We live in the greater area of New Orleans, La., where we are both working on our seminary degrees while serving on staff at West Bank Baptist Church (WBBC) in the city of Marrero.

I received my Bachelor of Science degree in nursing at the University of West Florida and am now working on obtaining my Master of Art degree in missiology at New Orleans Baptist Theological Seminary (NOBTS).

Coale graduated with a bachelor's degree in history at Troy University and is pursuing a Master of Divinity in pastoral ministries at NOBTS. We both graduated in May 2021. In my spare time outside of school and ministry, I work as a brain injury rehab nurse and a grader for missions courses at Leavell College.
About My Church Plant
I am currently the director of Krewe de Kids (KdK), which is our children's ministry. Coale is the youth pastor. KdK provides care for children from infants through fifth grade. We are currently meeting in a sister church on Sunday evenings for corporate worship. Childcare is provided for infants and preschool aged children. Grade school children engage in corporate worship and small group Bible teaching during the Sunday worship hour. Our children's ministry meets in a divided Sunday School classroom, one side for childcare and the other for Bible study. We are hoping to gain more teachers and expand into separate classrooms in the future. I also help co-lead youth group and youth girls events with my husband.
NAMB Church Planting
Millions in North America are in desperate need of hope. Ultimately, the only hope that's going to last - in this life and the next - is the hope of the gospel. North American missionaries build relationships and share this hope in their communities and beyond.