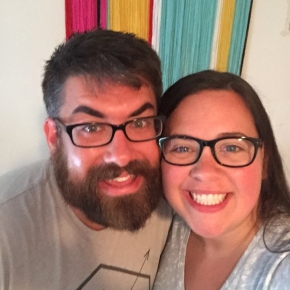 Philadelphia Pennsylvania
About My Family
My wife, Darby, and I were introduced to each other by my sister. My sister had met Darby while on a missions trip in Ireland where Darby was serving. After a few years of friendship, I worked up the courage to ask her out, and we were married in 2013. Even when we were dating, Darby knew that my passion was to plant a church in the Northeast Region and, as a former staff member of the North American Mission Board in Alpharetta, Ga., God had developed in her a love of church planting even before we met. Darby loves cooking and crafting, and I love reading and board games. Together, we love seeing God work in the hearts of people in the Greater Philadelphia Area.
About My Church Plant
Our church is centered in Bryn Mawr, a suburb of Philadelphia just outside the city limits. We are moments away from downtown via a regional rail line that cuts through our town. Bryn Mawr is home to five institutes of higher education, including Villanova University, which has more than 10,000 students. Our passion is for our church to reach and equip the locals, but we are also passionate about the college students as they graduate and move throughout the country. By discipling students here, we have an opportunity to impact the entire nation.
NAMB Church Planting
Demonstrated Christian character is essential for missionaries and chaplains to gain credibility and build community. A missionary is a person who, in response to God's call and gifting, leaves his or her comfort zone and crosses cultural, geographic or other barriers to proclaim the gospel and live out a Christian witness in obedience to the Great Commission. The North American Mission Board supports missionaries serving across the United States, Canada and their territories. Churches are the missionary incubators and sending centers for missionaries through the Southern Baptist Convention. Missionaries serve in a variety of settings and face tremendous challenges. But the rewards are tremendous and life-changing. Missionaries have the privilege to represent their church and their Father in sharing the gospel as the primary focus of their activity. If you are interested in pursuing next steps as a potential missionary or chaplain from your church, explore the possibilities at namb.net/send-me.