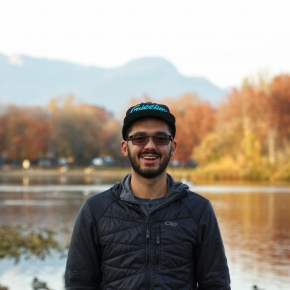 Lead Church Planter,
Lead Church Planter
Vancouver British Columbia,
Vancouver British Columbia
As a 501(c)(3) organization, the North American Mission Board respects the intent of givers while retaining discretion over the use of all gifts. Any gifts received above the specific need will be applied where the need is greatest.
About My Family
I'm a recently married guy on the ride of his life making disciples in the coolest city in North America: Vancouver, British Columbia!

Before I met Jesus, my life was filled with loneliness and shame. I didn't feel I belonged anywhere, so I would become like a "chameleon" to fit in. This didn't help; it just made my problems worse. Eventually, I heard the truth that my problems were deeper than not fitting in. I was destined to be separated from God forever due to my sin. But because of the glorious gospel message, I could surrender to Jesus and find security in Him now and for all of eternity. Now because of Jesus and everything He is for me, I have a sense of purpose and belonging as a child of God.

In my free time I enjoy various types of indie music, reading way too much, pop culture, hiking and drinking locally roasted coffee.
About My Church Plant
In partnership with Towers Baptist locally, I am planting Refuge Community Church in metro Vancouver.

Our vision: To see metro Vancouver move from death into life with Jesus.

Mission: To cultivate communities of healthy people who multiply life with Jesus everywhere.
NAMB Church Planting
Demonstrated Christian character is essential for missionaries and chaplains to gain credibility and build community. A missionary is a person who, in response to God's call and gifting, leaves his or her comfort zone and crosses cultural, geographic or other barriers to proclaim the gospel and live out a Christian witness in obedience to the Great Commission. The North American Mission Board supports missionaries serving across the United States, Canada and their territories. Churches are the missionary incubators and sending centers for missionaries through the Southern Baptist Convention. Missionaries serve in a variety of settings and face tremendous challenges. But the rewards are tremendous and life-changing. Missionaries have the privilege to represent their church and their Father in sharing the gospel as the primary focus of their activity. If you are interested in pursuing next steps as a potential missionary or chaplain from your church, explore the possibilities at namb.net/send-me.