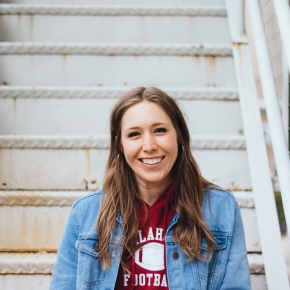 Collegiate/University Missionary
About My Family
I grew up in Oklahoma and graduated from the University of Oklahoma with a bachelor's degree in Professional Writing and a minor in General Business. I am blessed with a wonderful family. My parents still live in my hometown west of Oklahoma City, and my younger sister is pursuing her degree in Arkansas. My family played a large role in my faith story and helped me to become the woman I am today.

College was a sweet time in my walk with Jesus. It was a time of immense growth. During my college years, the Lord confirmed my call to ministry and gave me clarity as to what this calling would look like.

Additionally, a large part of my college degree focused on storytelling. This serves me well as I am passionate about hearing people's stories and helping them understand how their story fits into the larger story of the gospel.
About My Ministry
I am a campus minister at the University of Oklahoma (OU) with the Baptist Collegiate Ministry (BCM).

I spent a lot of my time in college being invested in and investing in the lives of others at the OU BCM. I am ecstatic to be able to continue this and help train others, just as I was trained, to be a disciple-making-disciple.

As a BCM staff member and campus minister, my role is to help further the continued mission of helping students know, love and glorify God. I do this by primarily working with freshmen and focusing on group life development.