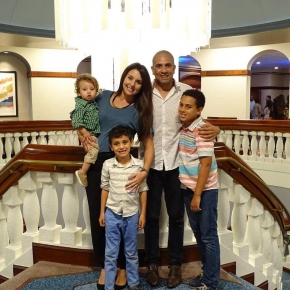 Lead Church Planter,
Lead Church Planter
Carolina Puerto Rico,
Carolina Puerto Rico
About My Family
God led me to repentance, and I believed He was my Lord and my Savior. He gave me a passion to read His Word and grow in knowledge of Him—a passion that continues to this day. Shortly before I converted, I met Rosa, who today is my wife. It was a relationship that started badly, since I was not a believer and lived submerged in the lies and pleasures of the flesh, and my wife was separated from the "church." She had been introduced to a distant "god" who had to do many works in order to reach salvation, but it was not enough. She still did not know the God of the Scriptures. Through the work and sovereignty of God, Rosa and I began a relationship, and in that process we came to know the gospel. Also, by the grace of God, we had our first child and years later the second and years later the third.
About My Church Plant
God has called us to plant Iglesia Biblica Metro in Carolina, Puerto Rico, which is located in metro San Juan. We are a community of Christ followers, focused on the gospel and committed to knowing, living and making it known. Our desire is to build a community that lives to worship God—a community that will revolutionize the whole city with the gospel of our Lord Jesus Christ and the sufficiency of the Scriptures, so every person can experience saving grace and new life in Christ. Our mission is to bring the gospel of our Lord Jesus Christ in a healthy way, with the aim of making disciples who can glorify God through their lives, expository preaching and healthy study of the Scriptures. We believe a healthy church knows, lives and proclaims the gospel for the glory of God.
NAMB Church Planting
Demonstrated Christian character is essential for missionaries and chaplains to gain credibility and build community. A missionary is a person who, in response to God's call and gifting, leaves his or her comfort zone and crosses cultural, geographic or other barriers to proclaim the gospel and live out a Christian witness in obedience to the Great Commission. The North American Mission Board supports missionaries serving across the United States, Canada and their territories. Churches are the missionary incubators and sending centers for missionaries through the Southern Baptist Convention. Missionaries serve in a variety of settings and face tremendous challenges. But the rewards are tremendous and life-changing. Missionaries have the privilege to represent their church and their Father in sharing the gospel as the primary focus of their activity. If you are interested in pursuing next steps as a potential missionary or chaplain from your church, explore the possibilities at namb.net/send-me.