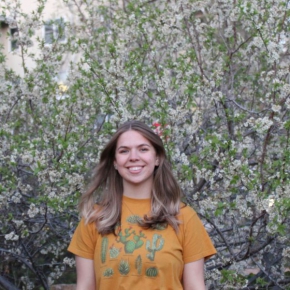 Collegiate/University Missionary
Colorado Springs Colorado
As a 501(c)(3) organization, the North American Mission Board respects the intent of givers while retaining discretion over the use of all gifts. Any gifts received above the specific need will be applied where the need is greatest.
About My Family
I was born and raised in Loveland, Colo., with my parents and older sister. I moved to Colorado Springs in 2018 to study biology at the University of Colorado Colorado Springs (UCCS). Though I have loved my time in other countries, Colorado is my favorite place! I love to spend time in the mountains, play my guitar and do indoor bouldering.
About My Ministry
During my time in college, I got to serve as a student leader with the campus ministry, Christian Challenge. This ministry has been on the UCCS campus since fall 2008, led by our directors and my dear friends, Kent and Elizabeth Slack. My time as a student in Christian Challenge has led to a great sharpening of my faith and personal development.

The Lord has called me to a lifetime of vocational ministry, and I am thankful that it begins here with Christian Challenge. I will get to meet with young women to help answer questions about life and faith, share the gospel with students and teach others to do the same. My hope is to partner with the body of Christ to see Jesus' name proclaimed across our campus.

I cannot do the work God has called me to alone, and I would love to have you share this journey with me.