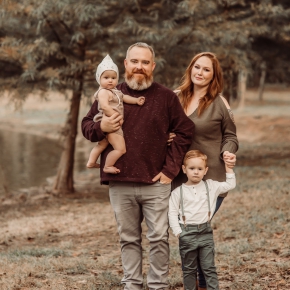 Church Planting Intern,
Lead Church Planter
Salt Lake City Utah,
West Valley City Utah
About My Family
Brad, Lauren and Judah moved to West Valley City, Utah, from Jackson, Miss., in April 2017. Brad has always had a passion for ministering to people who are irreligious and to those who have been hurt by the church and have used that hurt as an excuse to walk away from the gospel.

While Brad was in seminary, God used a relationship with two Latter Day Saints (LDS) missionaries to break Brad's and Lauren's hearts for the LDS people. These missionaries thought that they were sharing the "gospel" with Brad and Lauren, but God was actually using them to lead the Dormans to Utah. Now that they are living in Utah they are excited to be part of the work God is doing in the Salt Lake Valley and pray to see a day when Christianity is no longer the minority religion in Utah.
About My Church Plant
We exist to see a new body of believers gathered together in West Valley City. We desire to minister to those who feel marginalized due to the legalistic culture that is so prevelant in Utah. We want to reach those who are struggling and are unsure of where they can turn to find answers to life's most important questions. We believe the best way to do this is not by pointing people to religion but by introducing them to Jesus and the personal relationship that is offered through the good news of the gospel.
NAMB Church Planting
Demonstrated Christian character is essential for missionaries and chaplains to gain credibility and build community. A missionary is a person who, in response to God's call and gifting, leaves his or her comfort zone and crosses cultural, geographic or other barriers to proclaim the gospel and live out a Christian witness in obedience to the Great Commission. The North American Mission Board supports missionaries serving across the United States, Canada and their territories. Churches are the missionary incubators and sending centers for missionaries through the Southern Baptist Convention. Missionaries serve in a variety of settings and face tremendous challenges. But the rewards are tremendous and life-changing. Missionaries have the privilege to represent their church and their Father in sharing the gospel as the primary focus of their activity. If you are interested in pursuing next steps as a potential missionary or chaplain from your church, explore the possibilities at namb.net/send-me.