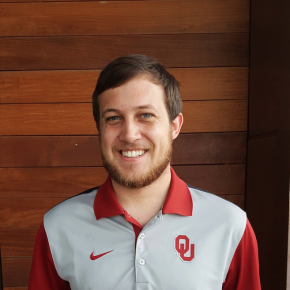 Collegiate/University Missionary
Baptist General Convention of Oklahoma
About My Family
Bronson was raised in Sperry, Okla., a small town north of Tulsa. He graduated in 2010 from Sperry High School and immediately started his college education at the University of Oklahoma (OU). It was during his first year of college that he allowed Jesus to truly start directing his life. Ever since then, Bronson has been passionate about sharing the gospel and the love of Jesus to all people.
In his first year of college, he began learning from students in the Baptist Collegiate Ministry (BCM) how to live daily as a follower of Jesus. He met with them regularly to study the Bible, and they challenged each other to live out what it says. That first year was a crucial turning point in Bronson's life. After freshman year, Bronson realized he was going to go into full-time ministry and did not want to waste any time. He decided to live on campus in the dorms so he could be with people and minister to them constantly. He did this for four years until he graduated in 2014. After graduation he went on a two-month missions trip to Southeast Asia. On his return he immediately joined the OU BCM staff team in reaching students just as he was reached as a student at OU. He has been serving with the BCM ever since and absolutely loves it!
About My Ministry
The University of Oklahoma's Baptist Collegiate Ministry is an extension of the Baptist General Convention of Oklahoma (BGCO) that has a focus on reaching college students at OU. The OU BCM has had the privilege of working with Southern Baptist churches in Norman, Okla., since its start in 1926. Over the years the BCM has sent many students on missions trips worldwide, but this started with OU students being faithful to sharing the gospel and developing and discipling students. The mission statement of OU's BCM is to know, love and glorify God and, in dependence upon Him, to develop multiplying disciples to reach the nations.