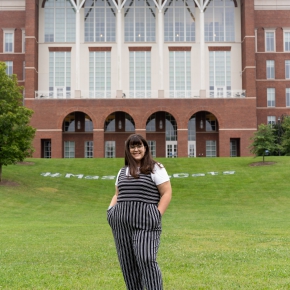 Collegiate/University Missionary
As a 501(c)(3) organization, the North American Mission Board respects the intent of givers while retaining discretion over the use of all gifts. Any gifts received above the specific need will be applied where the need is greatest.
About My Family
My name is Callie Babcock. I was born and raised in Lexington, Ky. I grew up in a single-mother home and went to a performing arts school here in Lexington.

I started at the University of Kentucky (UK) pursuing a degree in theatre, but felt God calling me to drop out after three semesters, so I did. I've been working since then as a barista and baker.

But now I've been working at the Baptist Collegiate Ministry (BCM) at UK for a few months, and it is the best job I've ever had. I love getting to hang out with students and share Jesus with them all day long.
About My Ministry
Working on UK's campus is so amazing. God gave me a heart for the campus five years ago when I started going here. I would pray that God would give me the opportunity to share the gospel with as many UK students as possible. And now that I'm in a position where it's literally my job to share the gospel with students.

I know that God has been preparing me for this role for a few years now. In my role at the BCM, I meet with and disciple female students, lead a women's Bible study, help plan and execute a variety of different events, encourage students and assist our leadership team. I love my job and where God has placed me. The ministry He has entrusted me with is truly a blessing.