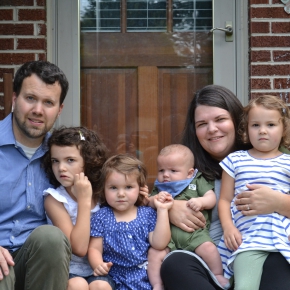 Collegiate/University Missionary
Warren Association of Baptists
About My Family
Colin was born in Toronto, Ontario, and has lived all over North America. He committed his life to Jesus at the age of 8. While in college, he went to eastern Europe on his first missions trip and later lived in central Africa for two years. He graduated from Trinity Western University with a degree in geography and international studies and has completed some graduate coursework in linguistics. 

Sarah is Kentucky born and bred. She accepted Jesus when she was 9. She graduated from Union University in Tennessee with a degree in middle-grades education and has been on numerous overseas trips, including a four-month stint as a student teacher in a North African country. She loves investing in the lives of other young women.

Colin and Sarah have been married since 2012 and are grateful to be the parents of Ellie, Nora Kate and Audrey!
About My Ministry
Colin's experiences with transitions and moving have given him an understanding of the fears and anxieties that international students face when coming to study in a new country. Sarah's experiences on short-term overseas trips have opened her eyes to the diversity of the world's peoples. They both enjoy welcoming international students on the campus of Western Kentucky University.

International student ministry is exciting because the nations are coming to us. Regardless of the political debates surrounding immigration, we want to welcome internationals in the name of Jesus, recognizing that in heaven we will be part of a multitude from "every nation, tribe, people and language." We want to see churches and church members equipped and mobilized to minister to the internationals in their own communities.