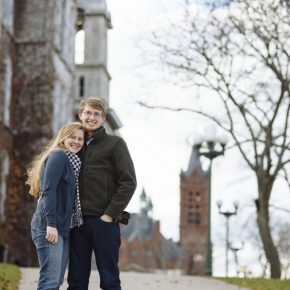 Lead Church Planter,
Lead Church Planter
Syracuse New York,
Syracuse New York
Baptist Campus Church at Syracuse University
As a 501(c)(3) organization, the North American Mission Board respects the intent of givers while retaining discretion over the use of all gifts. Any gifts received above the specific need will be applied where the need is greatest.
About My Family
Devon Bartholomew and his wife, Kate, are leading a church among college students at Syracuse University and College of Environmental Science and Forestry (ESF), where they attended college. Devon and Kate are both from the Buffalo/Niagara Falls area of New York and love snow.

Devon received his master's degree in theological studies from Gateway Seminary and is a certified arborist. He instructs a college course on Arboriculture at ESF. Kate studied chemical engineering but is a hobbyist of hobbies. She loves the vegetable garden and foraging for free fruit with their daughter Mira.
About My Church Plant
Syracuse University enrolls 22,000 students from around the world. Many students have been hurt by their church experience, have missed what the Christian faith is truly about, or have never heard the gospel (Matthew 9:36). Devon and Kate empower students to be the church wherever they go. They teach students how to share about the kingdom motivation and demonstrate Jesus' gospel message.

"[We] will tell a future generation the praiseworthy acts of the Lord, his might, and the wondrous works he has performed" (Psalm 78:4).

Kate oversees student programming for Christian outreach, the service and outreach component of student ministry. Devon is the Baptist chaplain for Syracuse University and the pastor of Campus Church. In addition, he serves as the interim state collegiate director for the Baptist Convention of New York.
NAMB Church Planting
Millions in North America are in desperate need of hope. Ultimately, the only hope that's going to last - in this life and the next - is the hope of the gospel. North American missionaries build relationships and share this hope in their communities and beyond.