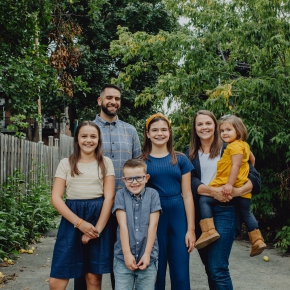 Lead Church Planter,
Lead Church Planter
Montreal Quebec,
Montreal Quebec
About My Family
My wife, Abi, and I have been married for 13 years and are blessed with four kids, Anabelle (12), Mya (10), Brock (6) and Lottie (3). We are a family who believes that the heart of God is missions and who has a desire to see churches planted to reach the lost.

For the past 16 years, I have served in the local church in various roles and have had the chance to travel through short-term missions projects. In 2015, the Lord made it clear that Montreal is where He was calling us to settle and invest our lives. After prayer and preparation, we made the decision to relocate and live our lives in a city that is desperate for the hope found in Jesus.

You can find us outside in our free time, enjoying each other, training for races (mostly me), heading to the library to find our next good book or on our way to find the perfect cup of coffee.
About My Church Plant
The heart of Renaissance Church is "Love Jesus, Love Each Other, Love Our World." Our desire is to see the good news of Jesus communicated to the people around us through our words, our actions and our church community. We are a church who values sharing our lives and the gospel message with the people in our community (1 Thessalonians 2:8).

We love to have our partnering churches come and spend time with us, learning how we strive to live intentionally and missionally in Montreal. We hope this would also impact your church when the team you send returns home. We are a young and small church, but we are seeing God open wonderful doors in our community.
NAMB Church Planting
Demonstrated Christian character is essential for missionaries and chaplains to gain credibility and build community. A missionary is a person who, in response to God's call and gifting, leaves his or her comfort zone and crosses cultural, geographic or other barriers to proclaim the gospel and live out a Christian witness in obedience to the Great Commission. The North American Mission Board supports missionaries serving across the United States, Canada and their territories. Churches are the missionary incubators and sending centers for missionaries through the Southern Baptist Convention. Missionaries serve in a variety of settings and face tremendous challenges. But the rewards are tremendous and life-changing. Missionaries have the privilege to represent their church and their Father in sharing the gospel as the primary focus of their activity. If you are interested in pursuing next steps as a potential missionary or chaplain from your church, explore the possibilities at namb.net/send-me.