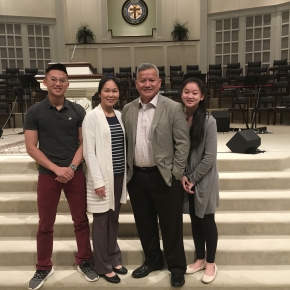 Living Hope Vietnamese Community Church/Hội Thánh Hy-Vọng Sống
About My Family
I came to the United States in 1975 at the age of 12. I found Jesus in 1987 after I went through a depressed period in my life. In 1998, I met a beautiful woman, Hong-Thu, and married her July 31, 1999. We have two children. Andrew is 19 years old and is in his second year at Embry Riddle Aeronautical University. Grace is a 16-year-old junior in high school.
About My Church Plant
We are planting a church in New Orleans East. There are about 14,000 Vietnamese living in the area, but for a long period of time there has been no evangelical Vietnamese church in the area to minister to the Vietnamese community. The Lord called my family and me to move from Memphis to this area to share His good news with the Vietnamese people.
NAMB Church Planting
Millions living in North America have not been reached with the gospel. But a new church makes change possible in an unreached neighborhood.
Send Network church planters immerse themselves in a community, learning the rhythms and culture as they establish relationships with the lost. A church plant grows out of the evangelism efforts of the planter and his core team.