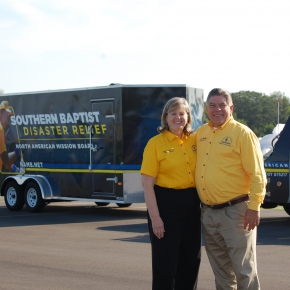 Disaster Relief Chaplaincy
Minnesota Wisconsin Baptist Convention
About My Family
God gripped our hearts for ministry as we made it through Hurricane Andrew several years ago while living in South Florida. We couldn't believe the massive destruction, but what caught our attention was all the people who so quickly came to feed and help those in desperate need. We even commented to each other about being part of all this help by Southern Baptists through our Cooperative Program giving, which is churches uniting their financial gifts to do so much more than alone. In the midst of this chaos they brought organization and most of all, peace.
As God had been preparing our hearts for full-time ministry, we finally quit our jobs and left South Florida for Texas so Dave could attend Southwestern Baptist Theological Seminary. He graduated with a master's degree and a few years later went on to complete his doctorate from Midwestern Baptist Theological Seminary in Kansas City, Mo. Dave and I are delighted to be working and ministering together through the Minnesota Wisconsin Baptist Convention leading the disaster relief ministry since 2005.
About My Ministry
Dave and I are amazed that God chose us to serve through Disaster Relief in Minnesota and Wisconsin. What a joy it is to encourage and help equip others to serve where God has called them. He has given us a platform to connect people with mission ministry opportunities. This is missions in action. We have found hurting, lonely and empty people out there. A disaster comes and, as volunteers, so do we, bringing more volunteers, trailers filled with equipment and hearts full of love, ready to share the love of Jesus.
As one affected person told me, "This is the first time anyone ever cared enough to hold my hand, pray for me and tell me about this Jesus." God has given us a passion to meet the immediate physical needs of those hurting and in shock from a disaster. We can then share the good news of our Savior meeting their eternal needs. We get to bring help, healing and hope.
SBC Chaplaincy
Chaplaincy is a "frontline" ministry that is vital to the extension of the local church. Chaplains reach the lost among the thousands of men and women in the U.S. Armed Forces, correctional facilities, healthcare settings, public safety, disaster relief sites and corporate environments. SBC Chaplains care for the broken, offer hope to the hopeless, and advance the Gospel of Jesus Christ in hard to reach places. The qualifications expected of a Southern Baptist applying for endorsement as a chaplain or counselor are established by the using agency and the Chaplains Commission, SBC. These qualification requirements vary according to the type of chaplaincy or counseling ministry involved but all are expected to meet a high level of ministerial competence. A basic qualification from the Chaplains Commission, SBC, is that an applicant is a Southern Baptist who is a member in good standing with an SBC church. Additional qualification requirements may involve certain age limits, educational background, ministry experience, physical condition, financial and credit history, citizenship eligibility for a security clearance, certification by certain national organizations, and other qualifications specific to the Using Agency or Chaplains Commission, SBC. If you are interested in pursuing next steps as an SBC endorsed chaplain from your church, explore the possibilities at Send me. For more information about SBC Chaplaincy, visit www.namb.net/chaplaincy.