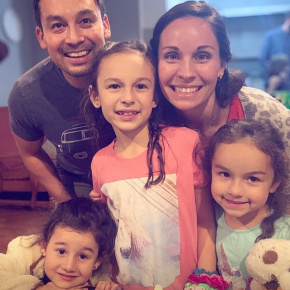 Church Planting Team Member
Grace Harbor Church New Bedford
About My Family
Johan was born and raised in the city of Bogota, Colombia. He has lived in America for the past 20 years. He came to America to go to college and soon after graduation married Sarah, whom he met through college ministry.

Johan became a believer at an early age thanks to his grandmother taking him to church where he heard the gospel preached. He has been gifted with administrative and discipleship skills.

Johan and Sarah have three beautiful daughters: Adaya (9), Kalina (6) and Linnea (4). They love dancing, playing board games, drawing and coloring.
About My Church Plant
Johan is currently preparing to serve in New Bedford, Mass., with Grace Harbor Church as a missionary, evangelizing, discipling and serving in the area of administration. New Bedford is a city of almost 150,00 people with little gospel witness and many social problems, high crime rates, underprivileged schools and a big opiate problem. The city is in need of hearing the good news of the gospel and establishing a faithful, gospel-exalting church.

Our desire is to see the residents of our city turn from their apathy, idols and addictions toward a life surrendered to Christ. We are laboring to show, teach and equip men and women in our neighborhoods to be fully mature in Christ with the goal of them becoming indigenous godly leaders in their homes, neighborhoods and the local church.
NAMB Church Planting
Millions in North America are in desperate need of hope. Ultimately, the only hope that's going to last - in this life and the next - is the hope of the gospel. North American missionaries build relationships and share this hope in their communities and beyond.