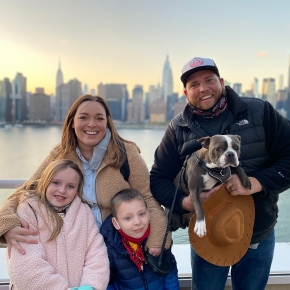 Church Planter Apprentice
About My Family
We are the Floros: Jordan (3/27), Melissa (9/4), Annie (10/12/12), and Judson (5/7/14). We moved to the neighborhood of Sunnyside in Queens, New York City in fall of 2020. As a family, we're a tight-knit group who loves spending time together exploring this incredible city.

We love going on walks to playgrounds as a family and taking our Boston Terrier, Hank, to the neighborhood dog park to play with other canines.
About My Church Plant
Melissa and I have served together in student ministry at various churches for about a decade. Through leading short-term mission trips to partner with church plants in New York City, the Lord clearly called us to move to Queens for the purpose of planting a new church.

In 2021, we are participating in a SEND Network church planting residency at New Hope Church in Jamaica, Queens. During this residency, we are training and building a team of individuals and families to launch a new church in the neighborhood of Sunnyside the following year.
NAMB Church Planting
Millions living in North America have not been reached with the gospel. But a new church makes change possible in an unreached neighborhood.
Send Network church planters immerse themselves in a community, learning the rhythms and culture as they establish relationships with the lost. A church plant grows out of the evangelism efforts of the planter and his core team.