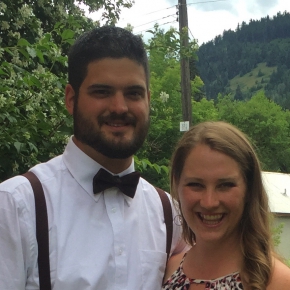 Lead Church Planter,
Lead Church Planter
Penticton British Columbia
True North Community Church
About My Family
My wife Betsy and I are both 29 years old and have been married for seven years. We have a "practice child" (a dog named Kona), and we have been praying for a couple years now to receive the blessing of the real thing. We both love the wilderness as we really connect with our Maker when we are surrounded by it. Betsy loves to sit by a stream and listen to its steadiness and consistency. I appreciate the beauty in serenity, too, but you will most likely find me hiking or hunting.
Betsy is from Vernon, and I am from Kelowna, both of which are located in the Okanagan Valley. We have been given a great burden for the people here. On his way to Damascus to find and persecute more Christians, the Apostle Paul was abruptly introduced to the Son of God and the Savior of all mankind. Only two or three years after this life-changing experience, Paul did something that has solidified what my wife and I believe is God's calling at this time of our lives. What did Paul do? He went home—back to Tarsus where he knew intimately the hopelessness of day-to-day life that seemed to serve no eternal purpose, nor offered true satisfaction. Separately we had both left our homeland looking for more; we were both looking for a deeper and a more genuine life with Christ. We thought maybe theological education would fulfill this desire, and we met on campus in Calgary in 2006. Education helped for sure, but we found something that was even better.
After we were married and looking for a place to fellowship, God brought us to a body of believers called The Pathway Church. There we found family—spiritual fathers, mothers, brothers and sisters—a type of family we didn't even know was possible. They accepted us where we were, and though we lived imperfectly, we strove and desired to display Christ in all our actions.
It's been three years now since we walked through those church doors, but something has changed. We, like Paul, now find ourselves looking back at the land in which we were raised and our hearts break with the desire to offer and introduce them to a family and a community like the one we found—a community that experiences life together while focusing on Jesus Christ in partnership with other communities that do the same. We want to co-cultivate with Christ a satisfying life that offers an individual the opportunity to wake up in the morning knowing, without a doubt, that the God of the universe and a family that is tighter than biological blood will be there for them in every season of life. We know this is only possible through the mutual acceptance of the One who accepted us first and cleansed us from our sin. This is the story we will tell. This is the power we have been given. This is the gospel.
About My Church Plant
Why do we call our church True North? True North uses Creation to point to the Creator. We offer physical and spiritual survival skills to foster a community of believers that does all aspects of life together, while focusing on Jesus Christ. To find your way physically in this world you have to align yourself with true north, and to find your way spiritually you have to align yourself with Jesus, so Jesus is our True North.
How are we going to make disciples in a practical sense? We chose a place we are familiar with, a place we are from where people love the creation and spend a lot of time in it. Unfortunately that's often where the buck stops—the creation is what is worshipped. True North then comes in and uses this common ground (creation) to make the Creator and our Savior Jesus known. We are using a spin-off of a cell-group model where you will be in your life group on the weekend and all the life groups will gather together Wednesday evenings for the more traditional service preceded by a potluck. We do this so that we can stay true to True North's style. This strategy, we believe, will be very effective for the people in the Okanagan Valley—solid biblical teaching but with slightly different methods.
For example, once a month your life group will have the opportunity to go on an overnighter or two with a designated qualified leader to do what we call "Extreme Discipleship." We already have seven complete sets of premium backpacking gear that you can use while we teach you physical and spiritual survival skills. To make sure we always point back to Jesus the Creator we will teach what we call spiritual parallels; for every physical skill we teach you, you will learn its spiritual parallel. For example, if we are teaching you how to make a fire, we will teach you what it means to shine the light of Christ. If we are teaching you hiking safety, to always hike with a buddy, we will teach you about the importance of accountability partners. Every physical skill has a spiritual parallel, that way Christ is always made known and glorified. You don't have to be an expert because the way we designed it is that if you can hike in the mall for an afternoon you can come on a True North excursion. Naturally we are going to attract (and our main focus will be) millennials, but of course all are invited as people of all ages in the Okanagan spend a great amount of time outside either at the beach or at the park, These will also be places of focus. The end goal is to plant four more churches of maturing followers of Jesus Christ in the Okanagan Valley in 10 to 15 years.
NAMB Church Planting
Demonstrated Christian character is essential for missionaries and chaplains to gain credibility and build community. A missionary is a person who, in response to God's call and gifting, leaves his or her comfort zone and crosses cultural, geographic or other barriers to proclaim the gospel and live out a Christian witness in obedience to the Great Commission. The North American Mission Board supports missionaries serving across the United States, Canada and their territories. Churches are the missionary incubators and sending centers for missionaries through the Southern Baptist Convention. Missionaries serve in a variety of settings and face tremendous challenges. But the rewards are tremendous and life-changing. Missionaries have the privilege to represent their church and their Father in sharing the gospel as the primary focus of their activity. If you are interested in pursuing next steps as a potential missionary or chaplain from your church, explore the possibilities at namb.net/send-me.