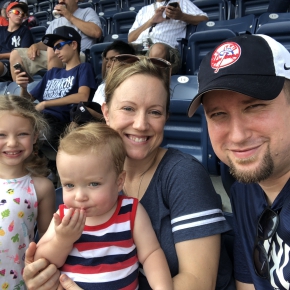 Bethesda Baptist Church, Burleson, Texas
About My Family
Becky and I were raised at the same church in Tulsa, Okla., where we found Jesus. She felt the call to missions work back in high school, but I didn't respond to the call to vocational ministry until college. We have been married since 2007. After 10 years of youth ministry in some great churches in Oklahoma and Texas, we have answered God's call to plant a church in New York City. We have one daughter, Maria, who was born in October 18, 2013, and our son, Moses, was born December 25, 2016.
About My Church Plant
We moved to New York City (NYC) in June 2016 and have begun to meet people. God has drawn us to Pelham Parkway in the Bronx because of its diversity in cultures. We are currently working to build a core team, research the community and form relationships within the neighborhood. There are no known evangelical churches in the neighborhood. The area is historically Jewish, but is now one of the most culturally diverse corners in NYC. We moved to the Bronx in January 2017, and we hope to launch English-speaking weekly services soon.
NAMB Church Planting
Demonstrated Christian character is essential for missionaries and chaplains to gain credibility and build community. A missionary is a person who, in response to God's call and gifting, leaves his or her comfort zone and crosses cultural, geographic or other barriers to proclaim the gospel and live out a Christian witness in obedience to the Great Commission. The North American Mission Board supports missionaries serving across the United States, Canada and their territories. Churches are the missionary incubators and sending centers for missionaries through the Southern Baptist Convention. Missionaries serve in a variety of settings and face tremendous challenges. But the rewards are tremendous and life-changing. Missionaries have the privilege to represent their church and their Father in sharing the gospel as the primary focus of their activity. If you are interested in pursuing next steps as a potential missionary or chaplain from your church, explore the possibilities at namb.net/send-me.