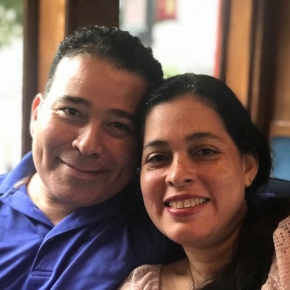 Washington District of Columbia,
Washington, DC District of Columbia
Iglesia Biblica Sublime Gracia
About My Family
I've been married since December 27, 1997,​ to my beloved Maribí. I was recently told that she is the best woman God could have ever given to me as a tangible demonstration of His grace and love. We have two kids: Rebeca (1999) and Benjamin (2002). I recently told them that they are the kind of kids every dad would love to have.

In our church, Maribí sings, Rebeca plays the piano and Benjamin the drums. I preach.
About My Church Plant
I surrendered to God's loving rule when I was a child. I got baptized at 11 and was leading youth at 15. Since then I've been involved in planting three churches. In 2002 I was invited by senior missionaries to establish Iglesia Biblica Metropolitana (IBM) in Lechería, Venezuela. I quit my secular job in 2009 to go full time.

In 2010, the Capitol Hill Baptist Church (CHBC) pastoral internship changed my life and made me love Washington, D.C. Then we went back to IBM for six more years. In 2015, Restoration Church DC called me to plant a Spanish-speaking church for the thousands of Hispanics in DC who are like sheep without a shepherd. And boom! On March 4, 2018, we covenanted together as Iglesia Biblica Sublime Gracia (IBSG) in the community of Columbia Heights, which is in the very heart of the nation's capital.
NAMB Church Planting
Demonstrated Christian character is essential for missionaries and chaplains to gain credibility and build community. A missionary is a person who, in response to God's call and gifting, leaves his or her comfort zone and crosses cultural, geographic or other barriers to proclaim the gospel and live out a Christian witness in obedience to the Great Commission. The North American Mission Board supports missionaries serving across the United States, Canada and their territories. Churches are the missionary incubators and sending centers for missionaries through the Southern Baptist Convention. Missionaries serve in a variety of settings and face tremendous challenges. But the rewards are tremendous and life-changing. Missionaries have the privilege to represent their church and their Father in sharing the gospel as the primary focus of their activity. If you are interested in pursuing next steps as a potential missionary or chaplain from your church, explore the possibilities at namb.net/send-me.