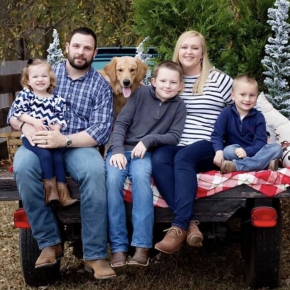 Church Planting Team Member
As a 501(c)(3) organization, the North American Mission Board respects the intent of givers while retaining discretion over the use of all gifts. Any gifts received above the specific need will be applied where the need is greatest.
About My Family
My name is Josh Horner, and I have been happily married to my wife, Jessica, since 2006. We have three beautiful children, Brock, Rhett and Maci. We are from Jackson, Miss. I enjoy spending time with my family, exercising and studying theology.

After graduating Southwestern Baptist Theological Seminary in 2018 with a Master of Divinity degree, my family was called to Raymond Road Baptist Church where I served as pastor for three years. During this time, God placed upon our hearts a desire for North American Missions. We have prayerfully determined that God is drawing us to New England, specifically in the Greater Boston Area.
About My Church Plant
God has cultivated within me a growing burden to reach lost souls, feed the hungry, clothe the poor and share the life transforming power of the gospel with those who are in need. He has providentially connected us with Restoration Road Church in Wakefield, Mass. With a shared burden to see broken people find restoration in Jesus and to encourage people in the gospel of grace, not just for Wakefield and the surrounding communities, but to prayerfully and strategically work toward planting more life-giving churches throughout New England, we believe God will use our hearts and gifts to assist in advancing His kingdom through the ministry of Restoration Road.

God is continually moving and transforming lives in Boston, and our family looks forward to growing and serving together with this wonderful church family.
NAMB Church Planting
Millions in North America are in desperate need of hope. Ultimately, the only hope that's going to last - in this life and the next - is the hope of the gospel. North American missionaries build relationships and share this hope in their communities and beyond.