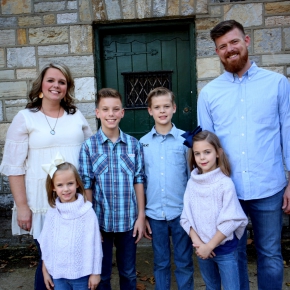 Lead Church Planter,
Lead Church Planter
Martinsburg West Virginia,
Martinsburg West Virginia
As a 501(c)(3) organization, the North American Mission Board respects the intent of givers while retaining discretion over the use of all gifts. Any gifts received above the specific need will be applied where the need is greatest.
About My Family
Josh and Sarah have been married for 14 years. They have four children: Riley, Elijah, Joselyn and Caroline. In 2015, God began to prepare Josh's heart for church planting, and one year later He opened the door to plant in Hagerstown, Md. After much prayer and godly counsel, he answered the call and began to prepare for the work in Hagerstown.

Josh loves to read and holds a bachelor's degree in biblical and theological studies from Liberty University. He has been in pastoral ministry for more than a decade. On his days off, you will find him spending time with family or checking in with new friends over a cup of coffee.
About My Church Plant
Between the opioid epidemic and the breakdown of the nuclear family, Hagerstown has been wrecked with hopeless, helpless and hurting people. Many people in Hagerstown don't know about the hope found in the gospel; in fact, more than 85 percent of Hagerstonians don't even attend church. So from Sunday morning worship to meals shared in our homes, we gather around the Word of God as souls in need. And as we gather, we grow in our understanding of God and in our relationship with Him. This is where the healing takes place.

Ultimately the cycle will be complete as we go to our neighbors and the nations, helping them to see the hope we have in Jesus. When this happens, we will see marriages restored and children adopted. We will see sinners repent and addictions laid down. Real needs will be met.
NAMB Church Planting
Demonstrated Christian character is essential for missionaries and chaplains to gain credibility and build community. A missionary is a person who, in response to God's call and gifting, leaves his or her comfort zone and crosses cultural, geographic or other barriers to proclaim the gospel and live out a Christian witness in obedience to the Great Commission. The North American Mission Board supports missionaries serving across the United States, Canada and their territories. Churches are the missionary incubators and sending centers for missionaries through the Southern Baptist Convention. Missionaries serve in a variety of settings and face tremendous challenges. But the rewards are tremendous and life-changing. Missionaries have the privilege to represent their church and their Father in sharing the gospel as the primary focus of their activity. If you are interested in pursuing next steps as a potential missionary or chaplain from your church, explore the possibilities at namb.net/send-me.