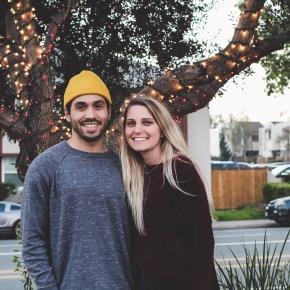 Church Planting Team Member
As a 501(c)(3) organization, the North American Mission Board respects the intent of givers while retaining discretion over the use of all gifts. Any gifts received above the specific need will be applied where the need is greatest.
About My Family
Being born and raised in Brazil as the son of missionaries, I have always been heavily involved in ministry. After many years, my family moved to the United States. I attended Arkansas Tech University and got actively involved with serving the local church. I began dedicating my time to youth and college ministry through leading Bible studies as well as worship.

During the summer of 2016, I was given the opportunity to participate in a college ministry project, much like GenSend. During this time, my wife and I both felt God calling us to San Diego. After two years of prayer, we decided to take a step of faith and move to California to serve at Mission Village Church.
About My Church Plant
Since moving to San Diego, Calif., to work at Mission Village Church, I have been actively involved in the renovation of the building , as well as the revitalization of the church's community.

My primary focus is assisting with the youth group, developing a college/young adults program for the church, assisting the worship team, overseeing the soundboard, as well as slides on Sunday services, setup and tear down for services, recording and uploading messages given on Sundays, as well as the audio and managing the church website.
NAMB Church Planting
Demonstrated Christian character is essential for missionaries and chaplains to gain credibility and build community. A missionary is person who, in response to God's call and gifting, leaves his or her comfort zone and crosses cultural, geographic or other barriers to proclaim the gospel and live out a Christian witness in obedience to the Great Commission. The North American Mission Board supports missionaries serving across the United States, Canada and their territories. Churches are the missionary incubators and sending centers for missionaries through the Southern Baptist Convention. Missionaries serve in a variety of settings and face tremendous challenges. But the rewards are tremendous and life-changing. Missionaries have the privilege to represent their church and their Father in sharing the gospel as the primary focus of their activity. If you are interested in pursuing next steps as a potential missionary or chaplain from your church, explore the possibilities at "Send me."