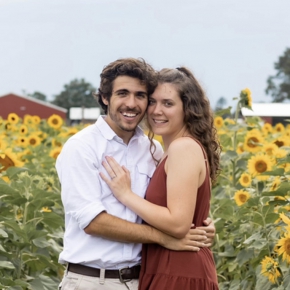 Collegiate/University Missionary
As a 501(c)(3) organization, the North American Mission Board respects the intent of givers while retaining discretion over the use of all gifts. Any gifts received above the specific need will be applied where the need is greatest.
About My Family
Hello! My name is Keegan Cullen, and my wife is Karmen. We graduated from the University of West Florida this past December then got married the next day!

Karmen was born and raised in Pensacola, Fla., while I was born and raised in Saint Petersburg. We both come from very big families and love them very much. Karmen has been following the Lord for two years now, and I started following the Lord almost seven years ago, and we are so excited to see where the Lord has us together.

We met each other at the Baptist Collegiate Ministry (BCM) and fell in love with the community and what it stands for on campus. We were so excited to join staff with Quinton this past January.
About My Ministry
The BCM is an organization/club on campus for all students. Through the BCM, churches have a way to reach college students directly on campus. Pensacola BCM's mission statement is to "reach the campus, serve the church, live for Christ."

Karmen and I are very excited to be Pensacola's first interns for the BCM through the North American Mission Board. Currently, Quinton is the only staff member for the Pensacola BCM, which includes the University of West Florida (UWF) and all Pensacola State College (PSC) campuses. We will help by equipping students to lead and encouraging them to live for Christ, serve in church and reach others.

Karmen will be the assistant to Quinton at the BCM on the UWF campus, and under Quinton's guidance, I'll be relaunching the PSC BCM ministry. We are both very excited to see what the Lord has for us!