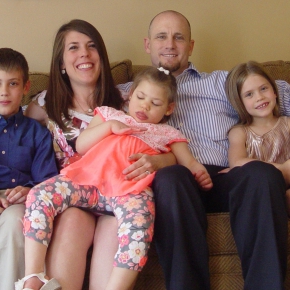 Deaf Fellowship Kansas City (DFKC)
As a 501(c)(3) organization, the North American Mission Board respects the intent of givers while retaining discretion over the use of all gifts. Any gifts received above the specific need will be applied where the need is greatest.
About My Family
My wonderful wife, Jessica, and I are the proud parents of three beautiful children: Christopher (12/20/06), Hope (07/17/09) and Sahara (10/22/11). Jessica and I met while International Mission Board (IMB) journeymen in West Africa, and our life together has always included ministry of some kind, no matter where we lived—and we have moved around quite a bit in our 11 years of marriage. The birth places of our children tell our story. Christopher was born in Kansas City, Mo., during our seminary days. Hope was born during a one-year stay in Kentucky as we prepared to return to West Africa. Finally, we were blessed with Sahara while serving in Niger, though we were soon to return for medical reasons. Since then we have lived on both the Missouri and Kansas sides of Kansas City. Jessica home schools, and I work overnight in the dorm of a local Deaf school in addition to our role as church planters.
About My Church Plant
We are cross-cultural missionaries to the Deaf community in the Kansas City area. As such, we are catalysts for church planting throughout the city. Our heart's desire is to see multiple groups established that network together for mutual encouragement and equipping in ministry. One of our passions is to provide access to God's Word in the heart language of the Deaf—American Sign Language. We have a small gathering of people meeting weekly at the local Deaf club, and we are seeking those whom the Lord will call to join the effort to advance the gospel by becoming part of a core group for a Deaf church.
NAMB Church Planting
Demonstrated Christian character is essential for missionaries and chaplains to gain credibility and build community. A missionary is a person who, in response to God's call and gifting, leaves his or her comfort zone and crosses cultural, geographic or other barriers to proclaim the gospel and live out a Christian witness in obedience to the Great Commission. The North American Mission Board supports missionaries serving across the United States, Canada and their territories. Churches are the missionary incubators and sending centers for missionaries through the Southern Baptist Convention. Missionaries serve in a variety of settings and face tremendous challenges. But the rewards are tremendous and life-changing. Missionaries have the privilege to represent their church and their Father in sharing the gospel as the primary focus of their activity. If you are interested in pursuing next steps as a potential missionary or chaplain from your church, explore the possibilities at namb.net/send-me.