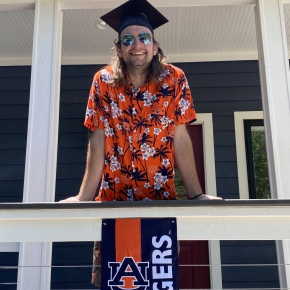 Collegiate/University Missionary
First Baptist Church Opelika
About My Family
My name is Matt Hulker. I'm from Franklin, Tenn., and I am an Auburn University graduate. I finished school in May of 2020 with a Bachelor of Science in Global Studies of the Human Sciences and a minor in general business. Through my time at Auburn, I completed 207 hours of course work in a variety of focuses. This path has allowed me to meet and connect with people from every kind of background.

My passion is to build relationships with people so the world can know what Christ has done for it. I attribute this passion to my parents, who raised me to understand God's heart for the nations. Revelation 7 paints a beautiful picture of people from EVERY tribe and tongue around the throne of God. Scripture also tells us that as Christians we all have a role to fulfill in making that a reality. Right now, my role has led me back to Auburn.
About My Ministry
I see two major needs at Auburn University. First, research shows you generally become in college who you will be for the rest of your life. There is a need in the lives of students for discipleship as they start to grow in maturity faster than they ever have in their lives.

Second, there are close to 30,000 students not involved in a church or campus ministry, many of whom are international students coming from countries where they do not even have access to the gospel. Not only do I want to go into the harvest, but I also want to teach others so we can get as many laborers for the kingdom on Auburn's campus as possible.