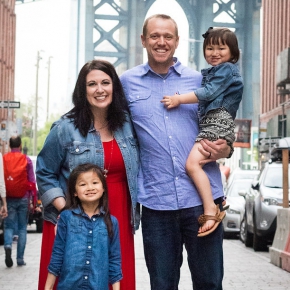 Queensboro Plaza, Queens New York
As a 501(c)(3) organization, the North American Mission Board respects the intent of givers while retaining discretion over the use of all gifts. Any gifts received above the specific need will be applied where the need is greatest.
About My Family
Michael and Shannon have both had a passion for the nations for several years. They served through the International Mission Board (IMB) for two years in East Asia, where their ministry focused on college campuses. This consisted of planting a house church and mapping and collecting data for future work on more than 100 campuses in a major strategic city.

Two years after returning home they brought home their first daughter, Promise, adopted from China in 2012. Then in September 2017, they brought home a second daughter, Mercy Lin, from China.

Altogether, Michael has more than 17 years of ministry experience working with students both in the U.S. and overseas. He has also been responsible for organizing several missions trips domestically and internationally, training and equipping people to go and mobilizing several to serve long term.
About My Church Plant
Bridge Community Church is a church plant in the Queensboro Plaza area of New York City that launched on Easter, April 21, 2019. It is the most socioeconomically diverse neighborhood in New York City and has 14 known languages and the nation's largest housing project all in a five-block radius. It is a gateway to the rest of Queens. We have also begun work in Sunnyside, Queens, with the hope of one day planting a church there.

We, along with a few other churches, have the vision and plan to plant multiple cross-cultural churches throughout Queens. Queens is one of the most ethnically and culturally diverse neighborhoods in the world and has more than 2 million people total. More than 130 nations are represented and more than 180 languages spoken along Line 7 and approximately 18 unreached people groups.
NAMB Church Planting
Demonstrated Christian character is essential for missionaries and chaplains to gain credibility and build community. A missionary is a person who, in response to God's call and gifting, leaves his or her comfort zone and crosses cultural, geographic or other barriers to proclaim the gospel and live out a Christian witness in obedience to the Great Commission. The North American Mission Board supports missionaries serving across the United States, Canada and their territories. Churches are the missionary incubators and sending centers for missionaries through the Southern Baptist Convention. Missionaries serve in a variety of settings and face tremendous challenges. But the rewards are tremendous and life-changing. Missionaries have the privilege to represent their church and their Father in sharing the gospel as the primary focus of their activity. If you are interested in pursuing next steps as a potential missionary or chaplain from your church, explore the possibilities at namb.net/send-me.