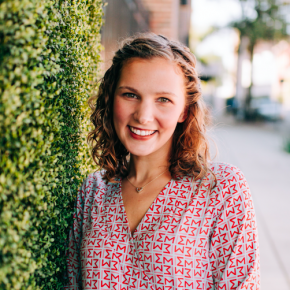 Church Planting Team Member
Antioch Community Church Birmingham
About My Family
Hey, guys! My name is Morgan Pitman, and I currently live in Birmingham, Alabama. I grew up in north Alabama but spent three years living in Abu Dhabi, UAE, in high school.

I grew up in a Christian home and was part of an amazing church family. I accepted Christ at 9 years old at a GA camp, but didn't make my faith my own until high school.

I have a passion to serve and love others so they might see a glimpse of Christ's unconditional love. After attending Antioch Church, I recently joined their team as the administrative assistant. I am also the team director of Delight Women's Ministry at the University of Alabama in Birmingham, a group that builds Christian community on college campuses.

I love getting to see God move across my school campus! I enjoy spending time with my family and friends, hiking and drinking lots of coffee.
About My Church Plant
I am currently serving as the administrative assistant for Antioch Community Church in Birmingham, Alabama. Antioch Church is a new church plant focused on reaching the University of Alabama at Birmingham students and people in the surrounding area.

Antioch continues to grow weekly, which creates a need for additional staff to help Pastor Kevin continue to multiply the ministry of Antioch Church. Some of my weekly tasks include member and staff communications, outreach and preparation for Sunday services.

I am excited to serve in this administrative position, helping with the logistics of the ministry as Antioch continues to grow and serve our community.
NAMB Church Planting
Millions in North America are in desperate need of hope. Ultimately, the only hope that's going to last - in this life and the next - is the hope of the gospel. North American missionaries build relationships and share this hope in their communities and beyond.