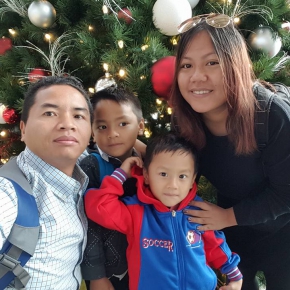 Lead Church Planter,
Lead Church Planter
San Diego California,
San Diego California
About My Family
By the grace of God, I was born in a very good Christian family in Chin Hills, Myanmar (Burma). My grandfather was the first Christian in my village. He was baptized by an American Baptist missionary named Dr. J.H. Cope in 1936 before World War II. He became the first minister of the gospel in my village. My father and I are second and third generation ministers of the gospel—to God be the glory. After my college years in Myanmar, God opened the door for me to study Theological Education and Missions in India for seven years. In 1999, during my first year in seminary, I was really born again into God's family and made a passionate decision to serve the Lord with all my heart and life. After completing seminary, my family and I had a great opportunity to do church planting work in Malaysia and Thailand among the Burmese migrant workers and refugees for 10 years. In 2014 God opened the door to evangelize and plant churches among the Myanmar (Burmese) communities in United States. Right now we are planting Agape Myanmar Mission Church in San Diego, Calif.
My wife's name is Nu Mawi. We have two sons. Daniel Lian is 6 years old, and Matthew Lian is 4. Our family motto: With God all things are possible. Live for a mission and give thanks always!
About My Church Plant
Agape Myanmar Mission is reaching out to the Myanmar (Burmese) Buddhist, Animist and Muslim immigrants and refugees communities in San Diego County. By the grace of God, more and more Burmese people are coming to know the Lord through our ministry. Our strategies are:

Praying to God to open our people's hearts and minds.
Helping and meeting their physical needs.
Sharing the good news in a clear, simple and contextualized way.
Visiting their homes for meaningful Bible study.
Discipling them as we walk and live in communities as Jesus did.
Having a wonderful celebration worship service on Sundays at the church and Saturday nights at home.

NAMB Church Planting
Demonstrated Christian character is essential for missionaries and chaplains to gain credibility and build community. A missionary is a person who, in response to God's call and gifting, leaves his or her comfort zone and crosses cultural, geographic or other barriers to proclaim the gospel and live out a Christian witness in obedience to the Great Commission. The North American Mission Board supports missionaries serving across the United States, Canada and their territories. Churches are the missionary incubators and sending centers for missionaries through the Southern Baptist Convention. Missionaries serve in a variety of settings and face tremendous challenges. But the rewards are tremendous and life-changing. Missionaries have the privilege to represent their church and their Father in sharing the gospel as the primary focus of their activity. If you are interested in pursuing next steps as a potential missionary or chaplain from your church, explore the possibilities at namb.net/send-me.