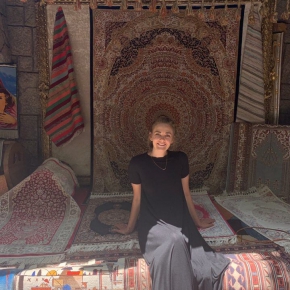 Collegiate/University Missionary
As a 501(c)(3) organization, the North American Mission Board respects the intent of givers while retaining discretion over the use of all gifts. Any gifts received above the specific need will be applied where the need is greatest.
About My Family
I love Jesus and am thankful that He allows me to participate in the work of bringing people to His throne of grace. I am passionate about the local church, the unreached and making disciples. I am humbled, grateful and stoked that I get to make disciples full-time and am thankful for ministry partners who enable me to do so!

This is my second year on staff with Christian Challenge at California Baptist University (CBU), and I cannot wait to see what the Lord continues to do in and through the lives of students on our campus!

In addition to loving God, His Word and His people, I also love coffee, being outside, baking, running and adventuring with friends!
About My Ministry
Christian Challenge at CBU is designed for discipleship so the students of California Baptist can grow in their understanding of the gospel and how to live out their faith in Jesus Christ. The ministry itself is broken down into three main components:

Challenge Nights are weekly campus-wide meetings that take place to connect and gather all students on campus to grow together in their walks with God.

Tribes are groups of about 20–50 students who meet throughout the week in various locations on campus to study Scripture together. Over the course of a semester, the students will go through an entire book of the Bible, verse-by-verse, together.

Discipleship groups are small groups of three to six people who meet to specifically challenge and encourage each other in the areas of accountability and prayer.