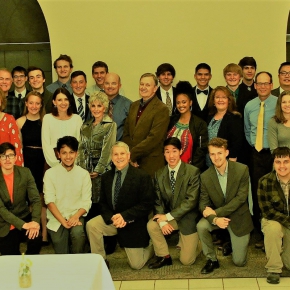 Collegiate/University Missionary
Colorado Baptist General Convention
About My Family
Our family's purpose has always been in campus ministry and our children have participated in our ministry at Colorado University (CU). In fact we have five CU grads! We look forward to continuing to invest in students and directors with a goal of seeing our grads in Colorado become lifelong laborers for Christ.

Our seventh child, Alyssa, has Down syndrome and autism, and our last child, Quinn, has autism. Enjoying and serving them has been a big part of family life. Quinn and Alyssa have helped us remember how precious every person is in God's eyes. Quinn and Alyssa have not diminished our ability to do college ministry well. In fact, they have inspired our students to serve others, too.
About My Ministry
"That every college student in Colorado has the opportunity to respond to the claims of Christ and become a disciple-maker."
That is my goal. After 29 years as the director of the University of Colorado Christian Challenge I have transitioned to become director of collegiate ministries in Colorado, working through the Colorado Baptist General Convention. I want to encourage and equip directors in our state as well as recruit new directors for new work. Work on our campuses in Colorado must be a team effort. Our churches and campus ministries work alongside other organizations. We want to equip students for a lifetime of purposeful living with eyes on eternity.