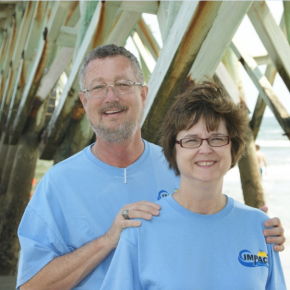 Myrtle Beach South Carolina
Impact Ministries of Myrtle Beach
About My Family
Ann and I have been married for more than 39 years and have been serving in Myrtle Beach for four years. Ann is an elementary ESOL (English language learners) teacher.
We have two grown children. Johnathan who lives in San Francisco, Calif., is studying to be a bilingual (Spanish) teacher. Michael lives with his wife, Danni, and daughter, MacKenzie, is in Atlanta and is a mechanical engineer.
About My Ministry
I am a missionary and the volunteer coordinator for Impact Ministries of Myrtle Beach. We host volunteer church groups to come and serve in day camps, in retirement homes, at the boardwalk and other tourist attractions, to prayerwalk, to help with hotel and shop worker ministry and beach ministry.