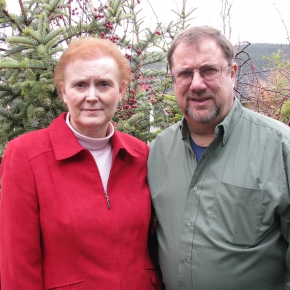 RePlant Church Planter,
RePlant Church Planter
Vanderhoof British Columbia,
Vanderhoof British Columbia
About My Family
Linda and I celebrated our 40th wedding anniversary in August 2017. Our daughter and son-in-law have given us two grandchildren, ages 7 and 9. They live in Canada as well, six hours west of us in Terrace, British Columbia. We serve at Mapes Baptist Church in Vanderhoof, British Columbia, which is the northernmost Southern Baptist church in British Columbia. I like taking pictures of God's creation here in British Columbia. We enjoy taking our RV into the great outdoors when time allows. I have started an archery club for children in an effort to reach families here in our community.
About My Church Plant
Our church, Mapes Baptist Church, is presently the northernmost Canadian National Baptist Church in British Columbia. We have served here at this church since 2013. I am a replant church pastor and came here after serving for two years in the Okanagan as a church planting catalyst at the Potter's House Community Church. I served at churches in Ohio, Texas and Georgia before moving to Canada in 2010. We have a strong desire to see our church catch the vision for missions and for sharing the gospel with those here in the community.
NAMB Church Planting
Demonstrated Christian character is essential for missionaries and chaplains to gain credibility and build community. A missionary is a person who, in response to God's call and gifting, leaves his or her comfort zone and crosses cultural, geographic or other barriers to proclaim the gospel and live out a Christian witness in obedience to the Great Commission. The North American Mission Board supports missionaries serving across the United States, Canada and their territories. Churches are the missionary incubators and sending centers for missionaries through the Southern Baptist Convention. Missionaries serve in a variety of settings and face tremendous challenges. But the rewards are tremendous and life-changing. Missionaries have the privilege to represent their church and their Father in sharing the gospel as the primary focus of their activity. If you are interested in pursuing next steps as a potential missionary or chaplain from your church, explore the possibilities at namb.net/send-me.