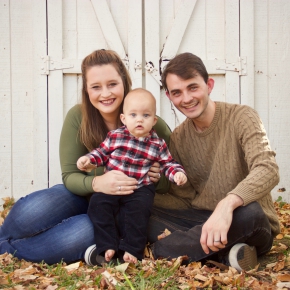 Church Planting Team Member
International Baptist Church
About My Family
I grew up in Uvalde, Texas, and El Salvador where my parents served with the International Mission Board. My wife, Joy, grew up in Alaska where her parents worked full time and served with their church's youth. Joy and I met at our home church in Arlington, Texas, while I was attending Southwestern Baptist Theological Seminary and Joy was working in marketing at a Christian company.

During the summers of 2016–2018, I served in Vancouver as part of the GenSend program. During this time I felt God calling me to join in church planting in metro Vancouver. Joy had sensed God calling her to missions from a young age. Through prayer, we believed God had called us to get married and serve in Vancouver together. We were married in February 2019.

Our son, Samuel, brings us much joy. He loves board books, crawling and playing at the park.
About My Church Plant
God has called our family to join Christian Rowland's family in planting a multiplying, multiethnic church in Langley, which is part of metro Vancouver. Langley is one of the most rapidly growing cities in British Columbia.

The fastest growing religious preference is "no religion," while an increasingly high number of immigrants from around the world contribute to growing Sikh, Muslim and Buddhist populations. It is common during one trip to a community centre to meet young families from India, Korea, China, Russia, Jordan, Turkey and Ukraine.

Since early 2020, International Baptist Church has been meeting weekly through video call for worship and vision-sharing with a growing small group; some are believers and others are seeking. Lord willing, we will join them in Langley in January 2021.
NAMB Church Planting
Demonstrated Christian character is essential for missionaries and chaplains to gain credibility and build community. A missionary is a person who, in response to God's call and gifting, leaves his or her comfort zone and crosses cultural, geographic or other barriers to proclaim the gospel and live out a Christian witness in obedience to the Great Commission. The North American Mission Board supports missionaries serving across the United States, Canada and their territories. Churches are the missionary incubators and sending centers for missionaries through the Southern Baptist Convention. Missionaries serve in a variety of settings and face tremendous challenges. But the rewards are tremendous and life-changing. Missionaries have the privilege to represent their church and their Father in sharing the gospel as the primary focus of their activity. If you are interested in pursuing next steps as a potential missionary or chaplain from your church, explore the possibilities at namb.net/send-me.