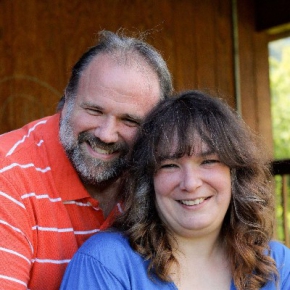 Lead Church Planter,
Lead Church Planter
westernport Maryland,
westernport Maryland
About My Family
I am blessed to be married for 28 years to Leslie who had no idea she was marrying a church-planting pastor. We met while I was doing a high school senior service project at the daycare center at which she was employed. I had the marvelous privilege of leading her to Christ in1986. We married in June 1989 and were blessed to have our miracle child, Joanna (JoJo) in 1994. Jo is the apple of our eyes as she loves the Lord, participates in multiple missions trips, is a licensed physical therapy assistant and is active in our church plant. In 2012, my parents came to live with us as my Dad started a four-year battle with dementia and Alzheimer's disease. He went to be with the Lord in 2016, and my mom still lives with us. Their influence produced the heart we have now for the work of the Lord and the proclaiming of the gospel of Jesus Christ.
About My Church Plant
While pastoring a wonderful congregation in a northern Appalachian Mountain mill town in western Maryland, the Lord laid on my heart to preach a sermon on faith. Soon after finishing this series, the local high school building came up for bid. There was no way I was interested in this big building as we were too small and too poor as a congregation to afford it. My church family came to me urging me to go by faith. So I bid the ridiculously low amount of $50,000, hoping to show I had faith. God laughed, and we were sold the building for that amount. Thus, we planted Bruce Outreach Center, which serves one of the poorest counties in the U.S. Thus far we have seen 101 folks give their lives to Christ and follow the Lord in baptism. We seek to also open a daycare center and provide apartments to break the cycle of poverty in this community.
NAMB Church Planting
Demonstrated Christian character is essential for missionaries and chaplains to gain credibility and build community. A missionary is a person who, in response to God's call and gifting, leaves his or her comfort zone and crosses cultural, geographic or other barriers to proclaim the gospel and live out a Christian witness in obedience to the Great Commission. The North American Mission Board supports missionaries serving across the United States, Canada and their territories. Churches are the missionary incubators and sending centers for missionaries through the Southern Baptist Convention. Missionaries serve in a variety of settings and face tremendous challenges. But the rewards are tremendous and life-changing. Missionaries have the privilege to represent their church and their Father in sharing the gospel as the primary focus of their activity. If you are interested in pursuing next steps as a potential missionary or chaplain from your church, explore the possibilities at namb.net/send-me.