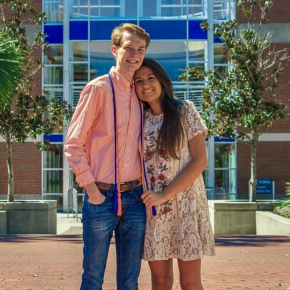 Collegiate/University Missionary
North Central Baptist Church
About My Family
Stephen is a recent graduate of the University of Florida (UF). He graduated with a degree in linguistics and teaching English as a second language in May of 2019. His wife, Valerie, will graduate in May 2020 with a degree in political science and religion.

Stephen and Valerie were members of the Baptist Collegiate Ministry (BCM) during their time at the University of Florida, where they learned how to walk with God, shared the gospel with students who did not know Him, and help them learn how to do the same. Because of the impact the BCM and their church had on their lives, and the strategic potential university students have in fulfilling the Great Commission, they are burdened to continue to impact the lives of students with the gospel.
About My Ministry
Stephen is a campus minister through North Central Baptist Church in Gainesville, Fla., at the UF BCM. The UF BCM works with Southern Baptist churches in the area to connect students on the campus to churches in the Gainesville area.

Stephen serves in many roles at the UF BCM. His primary focus is leading the Areas Ministry. Here, he oversees students who are targeting different areas of campus, including freshmen dorms, Greek life, the School of Business, the School of Music and the School of Agriculture. Stephen's heart is for training and equipping the student leaders targeting these areas to walk with God, to seek Him daily and to equip them to do the same with other students in their areas.