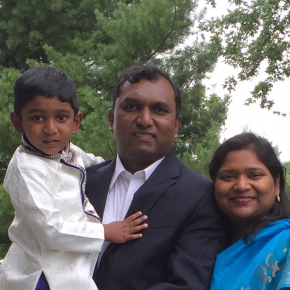 Relationships Indian Community Church
About My Family
My name is Sunil Prasad. My wife, Stephanie, and I have been married for 11 years and our son, Simon, just turned 5 years old. I was born and raised in India. I served as a music minister for five years and then served as an associate pastor for the next five years. My father, who was a powerful inspiration to me, worked in an evangelistic organization where the gospel was preached to millions in India. I realized that he gave his life for missions and planted hundreds of churches in the cities and villages of India. He went home to be with the Lord 22 years ago, but the flicker of missions is still burning in my heart. Stephanie's father is a missionary in India as well and has planted several churches in India. I believe there is no better investment of life than in missions as it is the heartbeat of God.
About My Church Plant
God has called me to serve Him by planting a church in the city of Mason, Ohio, which has more than 8,000 Indians. We have started prayerfully visiting these non-Christian families and are sharing the love of Christ and giving them the gospel. Please pray that God will open the hearts of these unbelievers and that they may enjoy freedom in worshiping and having a relationship with the Living Savior and having the blessed hope of eternal life that is found in Jesus Christ alone. We need a lot of prayer support and partners as we continue this great task ahead of us.
NAMB Church Planting
Demonstrated Christian character is essential for missionaries and chaplains to gain credibility and build community. A missionary is a person who, in response to God's call and gifting, leaves his or her comfort zone and crosses cultural, geographic or other barriers to proclaim the gospel and live out a Christian witness in obedience to the Great Commission. The North American Mission Board supports missionaries serving across the United States, Canada and their territories. Churches are the missionary incubators and sending centers for missionaries through the Southern Baptist Convention. Missionaries serve in a variety of settings and face tremendous challenges. But the rewards are tremendous and life-changing. Missionaries have the privilege to represent their church and their Father in sharing the gospel as the primary focus of their activity. If you are interested in pursuing next steps as a potential missionary or chaplain from your church, explore the possibilities at namb.net/send-me.