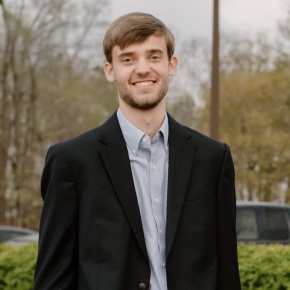 Collegiate/University Missionary
First Baptist Church Opelika
As a 501(c)(3) organization, the North American Mission Board respects the intent of givers while retaining discretion over the use of all gifts. Any gifts received above the specific need will be applied where the need is greatest.
About My Family
Hey! My name is Will, and I love Jesus, sports, Auburn University and going to the beach.

During my senior year of high school, I felt the call into ministry, but I had no idea what that was going to look like. While attending Auburn University for a degree in finance, I became very involved with the college ministry at First Baptist Church of Opelika (FBCO). During my time as a student, God began to work on my heart to care for the students of Auburn University and to give back and pour into them like people did for me.

At first I considered going straight into seminary, but God opened the door for me to get to stay in the town I love by being a collegiate missionary with FBCO's college ministry staff. Now I have the chance to do the work He has called me to and given me a passion for. I can't wait to begin this journey!
About My Ministry
I believe God has blessed me with the spiritual gifts of teaching and shepherding. He has given me a passion to not only see the lost become saved, but to also help strengthen and disciple young believers where they, too, can share their faith.

In my time as a collegiate missionary, I will get the chance to use these tools to create a culture of disciples to make disciples. God has laid a burden on my heart to seek out the lost and strengthen those who are younger in faith so that God's kingdom will go past the town of Auburn and to the nations. I believe the best way to do this is help equip and train believers in how to share their faith where the body can continue to multiply.