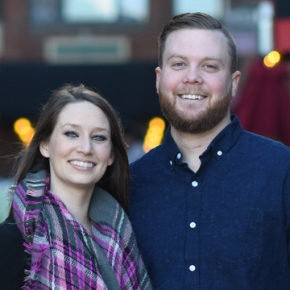 Church Planter Apprentice,
Lead Church Planter
Boston Massachusetts,
Brighton Massachusetts
As a 501(c)(3) organization, the North American Mission Board respects the intent of givers while retaining discretion over the use of all gifts. Any gifts received above the specific need will be applied where the need is greatest.
About My Family
Aaron and Emily are college sweethearts. Meeting in 2011 while leading at their church's summer camp, they knew it was God's plan for them to be together (although it took Emily a little convincing). They married in 2013 and are providing foster care and pursuing adoption in the Metro Boston area. They hail from the great state of North Carolina where Emily became a Christian at age 6 and Aaron at age 20. They both attended the University of North Carolina at Charlotte where Aaron holds a B.A. in middle grade education. He then obtained an MDiv. from Southeastern Baptist Theological Seminary.
About My Church Plant
City on a Hill Church Brighton will serve Boston's northwestern neighborhood of Brighton. Brighton is a dense community of 45,000 residents teeming with college students and young professionals. It is positioned just a few miles from Boston College, Boston University, Harvard and MIT, which makes Brighton a strategic center for reaching college students. Its unique mix of young families, native Bostonians and foreign-born population makes Brighton a vibrant neighborhood and key outpost for gospel impact in the city as a whole.
NAMB Church Planting
Demonstrated Christian character is essential for missionaries and chaplains to gain credibility and build community. A missionary is a person who, in response to God's call and gifting, leaves his or her comfort zone and crosses cultural, geographic or other barriers to proclaim the gospel and live out a Christian witness in obedience to the Great Commission. The North American Mission Board supports missionaries serving across the United States, Canada and their territories. Churches are the missionary incubators and sending centers for missionaries through the Southern Baptist Convention. Missionaries serve in a variety of settings and face tremendous challenges. But the rewards are tremendous and life-changing. Missionaries have the privilege to represent their church and their Father in sharing the gospel as the primary focus of their activity. If you are interested in pursuing next steps as a potential missionary or chaplain from your church, explore the possibilities at namb.net/send-me.