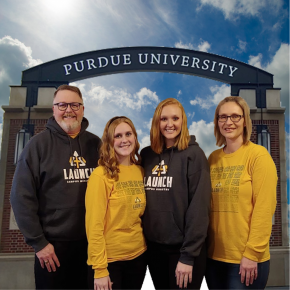 Collegiate/University Missionary
As a 501(c)(3) organization, the North American Mission Board respects the intent of givers while retaining discretion over the use of all gifts. Any gifts received above the specific need will be applied where the need is greatest.
About My Family
I met my spouse, Nettie, while we were students in the Baptist Student Union at Pittsburg State University back in the '90s. We have two amazing daughters who participate in ministry as often as their busy schedules allow. Michaela is our eldest daughter, and Breanna is our younger daughter.
About My Ministry
We serve as collegiate missionaries at Purdue University through Launch Campus Ministry. Launch Campus Ministry—formerly known as Purdue Collegiate Ministry, Baptist Collegiate Ministry and Baptist Student Union—has existed at Purdue since 1962. The purpose of the ministry is to help students grow in their spiritual journey, from those who have never had a relationship with Jesus Christ to those who don't remember ever living without being in a relationship with Him. We are training up leaders through student leadership and helping them discover whether they are called to ministry as a vocation or called to a missional life in their careers.