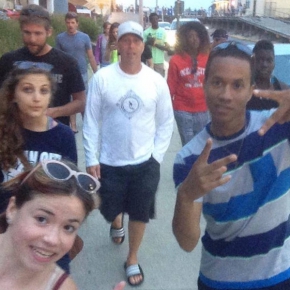 Collegiate/University Missionary
Greater Philadelphia Pennsylvania
Partnering with Churches in Montgomery and Bucks Counties
About My Family
I'm just a regular guy, called by God into full-time missions work on the local college/university campus, whom God has blessed, equipped and surrounded with people who love Jesus and want to see college students reached with the good news of Jesus Christ.

I have more than 20 years of experience in ministry through the local church (including Keystone and Covenant) and degrees from Lancaster Bible College and Biblical Theological Seminary. I have attended many leadership conferences and trainings in student ministry. I am in partnership with the Coalition for Christian Outreach (CCO) and Campus Crusade for Christ (CRU).

My wife, Beth, and I have four kids: Madison, Savannah, Jackson and Dakota. We love family game nights, Philadelphia sports, Starbucks and the beach!
About My Ministry
After years of working with students in the church context, I am now taking a big plunge with the North American Mission Board to be a collegiate missionary, working with local community colleges and small universities. God is already working in and around the greater Philly area college campuses. We are excited to be able to join Him in what He is already doing.

We engage, encourage and equip students in how to live for Jesus on campus and in the community through: weekly Bible study, small-group discipleship, community and social opportunities, missions and service projects, leadership development and international student connections.