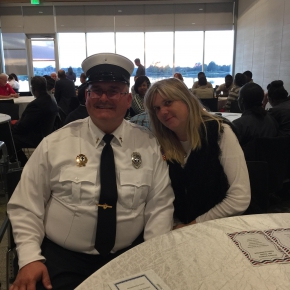 Public Safety/Community Chaplaincy,
Healthcare Chaplaincy,
Professional Organizations Chaplaincy,
Disaster Relief Chaplaincy
As a 501(c)(3) organization, the North American Mission Board respects the intent of givers while retaining discretion over the use of all gifts. Any gifts received above the specific need will be applied where the need is greatest.
About My Family
Sandy and I have served our local church in various capacities. Sandy has led women's ministry and mentored high school girls (Timothy Project). Our son is a U.S. Navy Seabee. May 2019 saw the completion of an online Master of Divinity in Community Chaplaincy degree from Liberty University.

I served 12 years in the United States Navy in the only enlisted medical corps as a Navy hospital corpsman. The Navy medically retired me in 1996, but with God's calling we continue to serve in different uniforms.
About My Ministry
I'm endorsed to serve as a volunteer hospital chaplain at Baptist Memorial Hospital Tipton and to serve as a fire/emergency services chaplain for Mason Fire Department, Mason, Tenn. Additionally, in 2010, I was endorsed as a Tennessee Baptist volunteer disaster relief chaplain.

I've continuously served since elected in 1998 as a voluntary Post Service Officer and Post Chaplain for Tipton County American Legion Post 67. I serve as the unit chaplain for the U.S. Public Health Service, the Shelby County Public Health Reserve (MRC). I was trained as a basic police chaplain by the International Conference of Police Chaplains.
SBC Chaplaincy
Chaplaincy is a vital frontline ministry and extension of the local church. Chaplains reach the lost among the thousands of men and women in the U.S. Armed Forces, correctional facilities, healthcare settings, public safety, disaster relief sites and corporate environments. SBC Chaplains care for the broken, offer hope to the hopeless and advance the gospel of Jesus Christ in hard to reach places.
The qualifications expected of a Southern Baptist applying for endorsement as a chaplain or counselor are established by the using agency and the Chaplains Commission, SBC. These qualification requirements vary according to the type of chaplaincy or counseling ministry involved but all are expected to meet a high level of ministerial competence.