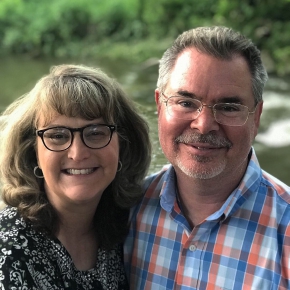 Lead Church Planter,
Lead Church Planter
Houston Texas,
Houston Texas
About My Family
Greetings from the Brents family! We are Buddy and Melanie Brents. We are Texas natives and have served in churches in Texas, Tennessee and Alabama. We also served 16 years with the International Mission Board in Japan. We have four adult children, three of whom are married, but no grandchildren yet! We are blessed to serve the Lord and be part of reaching the nations in Houston, Texas.
About My Church Plant
There are more than 350 nations here in Houston. Definitely the saying, "You don't have to go far to reach the nations," is true of our city. Our vision is to see multiethnic churches planted all over Houston. We have a passion for sharing Christ and making disciples.

Our church is called Nations Church Houston. Our first official Sunday as a church was September 25, 2016. We began with 24 members from eight countries and three continents. We will soon celebrate our third year of ministry here. Fifty to 60 people are coming each week with 17 countries represented. God is at work in Houston among the nations!
NAMB Church Planting
Demonstrated Christian character is essential for missionaries and chaplains to gain credibility and build community. A missionary is a person who, in response to God's call and gifting, leaves his or her comfort zone and crosses cultural, geographic or other barriers to proclaim the gospel and live out a Christian witness in obedience to the Great Commission. The North American Mission Board supports missionaries serving across the United States, Canada and their territories. Churches are the missionary incubators and sending centers for missionaries through the Southern Baptist Convention. Missionaries serve in a variety of settings and face tremendous challenges. But the rewards are tremendous and life-changing. Missionaries have the privilege to represent their church and their Father in sharing the gospel as the primary focus of their activity. If you are interested in pursuing next steps as a potential missionary or chaplain from your church, explore the possibilities at namb.net/send-me.