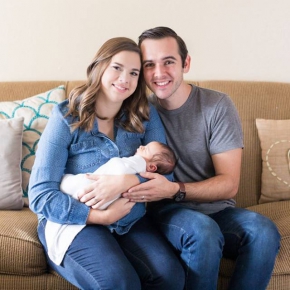 Collegiate/University Missionary
As a 501(c)(3) organization, the North American Mission Board respects the intent of givers while retaining discretion over the use of all gifts. Any gifts received above the specific need will be applied where the need is greatest.
About My Family
We are the founding directors of Christian Challenge at the University of California (UC) Santa Cruz. Christian Challenge is an on-campus ministry that is committed to reaching lost students with the message of the gospel, developing relationships with students to help them grow in their walk with God, and equipping them to be able to go out into the world to reach others for Christ.

If you have any questions or would like to hear more about our ministry, email Cody at codybryan91@gmail.com.
About My Ministry
We got involved in Christian Challenge at California State University Chico while we were students and joined the staff team upon graduating in 2013. During our eight years as full-time college ministers in Chico, we became associate directors of the ministry and eventually started feeling God leading us toward planting a new ministry at a university in need of more laborers on campus.

After seeking counsel and praying through several options, we have been sent out by Christian Challenge at Chico State to plant a new ministry at UC Santa Cruz, a campus of around 20,000 students with fewer than 2% of them being involved in any kind of ministry.