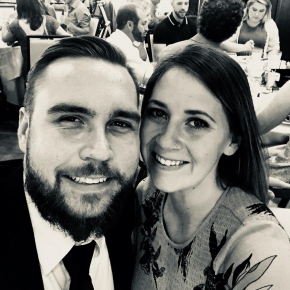 Collegiate/University Missionary
About My Family
I am a born and raised Colorado native from the Boulder County area. My wife, Sara, grew up all over the place as a military girl, but considers Colorado Springs her hometown. We met during our undergraduate studies at Colorado Christian University through a short-term missions trip to Ephraim, Utah. We were married in March of 2016 and are now expecting our firstborn son this May (2019)!

Since the beginning of our relationship, a deep desire for the Mormon people to come to know the true gospel of Jesus Christ has consistently turned our eyes toward the lost in the state of Utah. Now that I have finished my M.Div. at Denver Seminary, we are ecstatic about taking our first steps into witnessing to the goodness and grace of Jesus Christ among the Mormons, so that many might be saved!
About My Ministry
While sensing the Lord's call upon our lives to plant churches in the Salt Lake Valley, we have joyfully accepted an opportunity from Tri-Grace Ministries to lead the outreach to students at Snow College in Ephraim in partnership with InterVarsity. This role will include endless witnessing opportunities, discipleship of new believers, organizing the student-led campus Bible studies, running outreach events on a spiritually hostile campus, and serving at the only church in the city, Ephraim Church of the Bible. Ephraim is in Sanpete County, where 78 percent of the population are active Mormons, 21 percent are "Jack" Mormons (raised Mormon, not practicing), and fewer than 1 percent are Christians. This means that Saudi Arabia has a higher percentage of Christians than this mission field. Clearly, Sanpete County desperately needs the gospel!