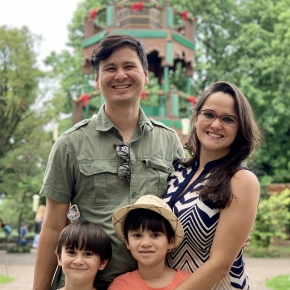 Vancouver British Columbia
As a 501(c)(3) organization, the North American Mission Board respects the intent of givers while retaining discretion over the use of all gifts. Any gifts received above the specific need will be applied where the need is greatest.
About My Family
I was privileged to marry my precious wife, Aline, in 2009. Our first conversation revolved around missions and seminary, however, because of my secular work we moved to China and lived in Shenzhen for one year. While there, we shared the gospel with many work contacts, distributing Bibles on taxi runs and other opportunities. As soon as we moved back to Brazil, we decided to drop everything and start seminary in Texas.

In 2012, we had the joy of becoming the parents of Daniel, and in 2014, we welcomed Matheus. After completing our studies, we went back to Brazil to prepare for our next challenge.

We had a great time working full-time as pastor of a church in Porto Alegre, and after five years God finally fulfilled our dream of allowing us to come to Metro Vancouver to serve as missionaries planting a church.
About My Church Plant
We are planting a church in Coquitlam, British Columbia. This is a very friendly and family-oriented city. We have met many families, and there is a quiet yet modern vibe in the city. Statistics show that almost half of the households are married couples with one child and that 44% of the population were born overseas.

Similar to all of British Columbia, Coquitlam has a very secular population with half considering themselves irreligious. We see a great disconnection among the population, many living isolated from the community. We have met many immigrants who have neither family nor friends in the city. We have befriended a family who has lived here for around 20 years, and we are their first friends. 

Our desire is to be light in the darkness that we see and feel and to be family to the lonely and to serve the community.
NAMB Church Planting
Millions living in North America have not been reached with the gospel. But a new church makes change possible in an unreached neighborhood.
Send Network church planters immerse themselves in a community, learning the rhythms and culture as they establish relationships with the lost. A church plant grows out of the evangelism efforts of the planter and his core team.