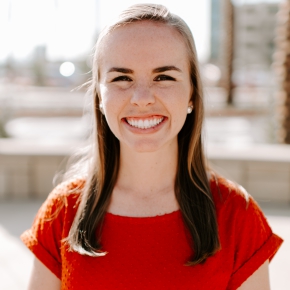 Collegiate/University Missionary
As a 501(c)(3) organization, the North American Mission Board respects the intent of givers while retaining discretion over the use of all gifts. Any gifts received above the specific need will be applied where the need is greatest.
About My Family
I have been doing campus ministry at California Baptist University (CBU) for four years now. I got to marry my high school sweetheart, Tyler, in 2019, and I am currently pursuing a degree in educational leadership at Gateway Seminary.

It bring me such joy to walk through life with students and help them understand that God wants all people to know Him. I teach them how to live biblically and encourage them to pass that on to others, both on campus and in the church.

I believe college students are more reachable, teachable and send-able in this season of life than in any other season of life. The college years are one of the last and perhaps easiest times for people to make major lifetime changes, and I love getting to be part of that process.
About My Ministry
Challenge is the discipleship ministry at CBU. As a ministry, we invite students to know Christ, challenge them to live out their lives as biblical followers of Jesus and encourage them to teach others to do the same. Through a variety of avenues and opportunities, we desire to be disciples who make disciples and pass on that same biblical pattern to students. They in turn invest in the lives of students on campus, in their local church and through overseas opportunities.

I hope they will believe that God's heart is for every nation, tribe and tongue to know His Son, Jesus Christ, and to worship Him alone and that they will participate in His Great Commission for the rest of their lives in whatever avenues God chooses to place them.