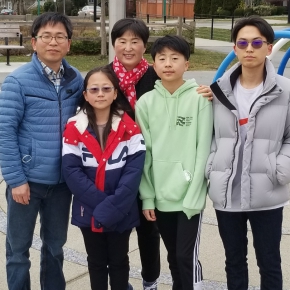 Clayton Gloria Community Church
As a 501(c)(3) organization, the North American Mission Board respects the intent of givers while retaining discretion over the use of all gifts. Any gifts received above the specific need will be applied where the need is greatest.
About My Family
My wife, Mijung, and I were born in non-Christian homes. When we became young adults, we both had a vision for expanding God's kingdom on earth. In 2010, after marriage, we decided to serve by devoting our lives to the expansion of the kingdom of God and world evangelization. In 2013, I graduated with a Master of Divinity degree from Korea Baptist Theological Seminary and have been working as a pastor and missionary for 14 years.

God blessed our marriage with three precious children: Hanse, Seongil and Hayeong. We believe and we pray as we raise our children to be servants of God.

Years ago, God placed us in the diverse city of Surrey, British Columbia, and we look forward to doing whatever God plans for us to do to expand His kingdom.
About My Church Plant
One day, I happened to ask my immigrant friend about the meaning of Christmas. His answer shocked me. He did not know the meaning of Christmas. Later, I read an article that talked about the importance of planting churches within cities to complete the evangelization of the world. I felt the calling to plant a church in the community where I live.

Clayton Gloria Community Church's (CGCC) vision focuses on evangelism, discipleship, baptism and the church's reproduction to all nations. We want to see every generation experience a missional life at home, at work, at school and in all communities. We want to see all nations become worshipers of God for His glory.

In February 2021, Clayton Gloria Community Church began serving in the Clayton area of Surrey.
NAMB Church Planting
Millions living in North America have not been reached with the gospel. But a new church makes change possible in an unreached neighborhood.
Send Network church planters immerse themselves in a community, learning the rhythms and culture as they establish relationships with the lost. A church plant grows out of the evangelism efforts of the planter and his core team.