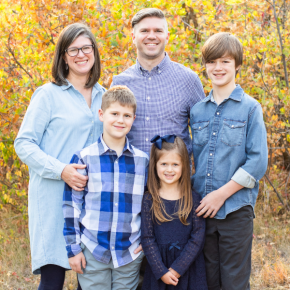 Collegiate/University Missionary
Colorado Srpings Colorado
As a 501(c)(3) organization, the North American Mission Board respects the intent of givers while retaining discretion over the use of all gifts. Any gifts received above the specific need will be applied where the need is greatest.
About My Family
Elizabeth and I got married May 15, 2004. The two of us moved from Texas to Colorado in July 2008 to begin Christian Challenge at the University of Colorado at Colorado Springs (UCCS), which is the ministry we lead to this day.

Since that time, our family has grown from two to five. Nathan was born in 2009, Aaron was born in 2011, and Sarah was born in 2015.

We are completely overwhelmed by God's goodness and faithfulness toward us, and we consider it a privilege to reach college students as a family.
About My Ministry
We are collegiate/university missionaries serving the University of Colorado at Colorado Springs (UCCS), a campus of more than 12,000 students. We have been leading Christian Challenge at UCCS since the fall semester of 2008.

Christian Challenge is a university campus ministry dedicated to challenging all students to grow in their understanding of Jesus Christ. We are excited to see how God continues to work in and through Christian Challenge at UCCS, but there are still so many students on our campus who do not know Jesus.

If you would like to find out more about how you can help support our ministry at UCCS, please contact us at kentslack@hotmail.com. We would love to have you share in this journey with us, so please be sure to look through the section labeled "Participate."