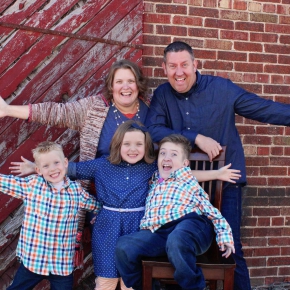 Collegiate/University Missionary
West Central Baptist Association
As a 501(c)(3) organization, the North American Mission Board respects the intent of givers while retaining discretion over the use of all gifts. Any gifts received above the specific need will be applied where the need is greatest.
About My Family
Hello! We are Chad and LaDonna Wilkin, and we have been happily married since 1997. We have three beautiful children: Josiah, Jocelyn and Jensen. Chad is an avid reader, a lifelong college student, it seems, and a super dad. He loves working with wood and carpentry projects, which is great because there is always a honey-do list. LaDonna is outgoing, creative and a graphics designer with a love for interior design. We love to host guests and be hospitable. Our home is happy when it is full. We love to play games and travel with our family. We have a love of lighthouses, and we try to plan any vacation where we can see a lighthouse and find good food.

Our oldest son, Josiah, is in a power wheelchair and has some physical disabilities. Though this is a challenge for our family, we believe God uses our family greatly because of it.
About My Ministry
We love the mission God has given us on four college campuses in Terre Haute, Ind. As adult learners and going back to college, the connections we have made with other college students will forever leave an impression on our hearts. The need for Jesus on these campuses is immeasurable, and we are so thankful that God has called our family to love on this generation. During our 21-year marriage, one or both of us has been in college 13 years, so it only seems fitting for the Lord to continue our love and passion for a college campus and the students there.